An interactive discussion with Storyboard Artist Aaron Brewer who will share his pathway to a successful career in animation artistry.
About this Event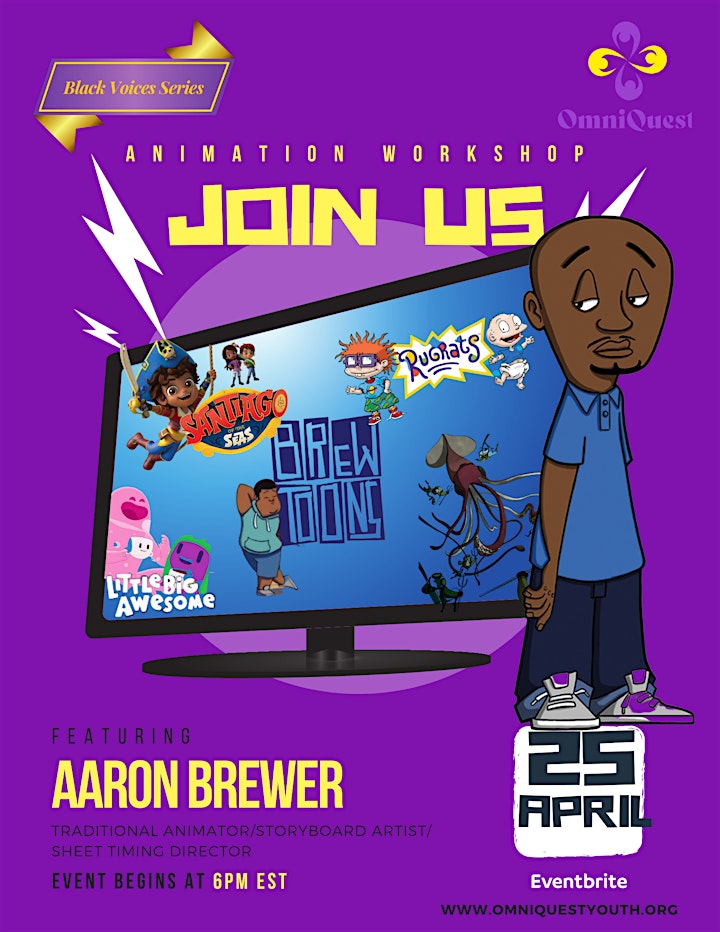 Representation is Power! While developing identity and sense of self, it is essential for Black and Brown youth to see positive and successful African-Americans in leadership roles. Having the opportunity to see, interact, and learn from thriving African-Americans will serve as a source of inspiration in the pursuit of greatness.
OmniQuest Youth Empowerment Initiative, Inc, a Washington, DC capacity building non-profit organization, is proud to present our monthly Black Voices Series featuring professional Storyboard Artist, Timing Director and Animator, Aaron Brewer.
Born and raised in the DMV and a graduate of the School of Visual Arts, Aaron worked as an animator for a decade in NYC before packing up his things and moving to Los Angeles. As a traditional 2D artist, he has contributed to a wide variety of projects including children's and adult animated series, commercials, and music videos. Aaron's talents extend beyond animation to storyboarding and animation direction (sheet timing). His works include but are not limited to Nickelodeon's Transformers and Rugrats; Santiago Of The Sea, Wonder Pet's and Little Big Awesome.
Aaron will provide animation drawing tips and a demonstration of drawing demos to help the audience understand the process of making an animated show!
To discover more about Aaron Brewer, visit www.brewtoons.com or follow him on IG @brewstuff.
TICKET INCLUDES:
• Access to Live Discussion via Zoom.
• Opportunity to Ask Questions
RELEASE:
By registering and allowing your child to participate in this event, you grant permission for the capture and use of images and/or video of your child and anyone in the view of his or her camera. OmniQuest Youth Empowerment Initiative, Inc. will be the sole owner of the captured images and/or video possessing the sole right to be able to use the images and/or videos for marketing purposes without compensation.
Click here to register now!