An interactive discussion with The Five Brothers who will share their pathways to successful careers in law and medicine.
About this Event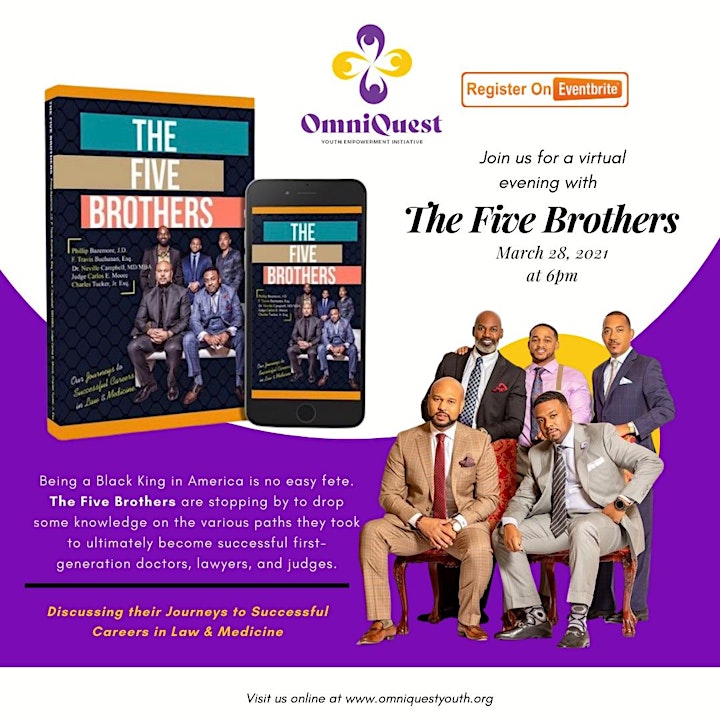 Representation is Power! While developing their identity and sense of self, it is essential for Black and Brown youth to see positive and successful African-Americans in leadership roles. Having the opportunity to see, interact, and learn from thriving African-Americans will serve as a source of inspiration in the pursuit of greatness.
OmniQuest Youth is proud to present our inaugural Black Voices Series event featuring The Five Brothers, a group of friends who affectionally refer to themselves as brothers. The Five Brothers are stopping by to drop some knowledge on the various paths they took to ultimately become successful first-generation doctors, lawyers, and judges. Among other things, they've overcome homelessness, police brutality, and social injustices to stand in their rightful place as a King in these United States of America. Everyday, they are working hard to pave the way for the future leaders of the African-American community.
This event is best suited for youth in grades 3 through 12.
TICKET INCLUDES:
• Access to Live Discussion
• Opportunity to Ask Questions
ACCESSING THE PARTY:
You will be able to easily access the event through Zoom.
RELEASE:
By purchasing a ticket and allowing your child to participate in this event, you grant permission for the capture and use of images and/or video of your child and anyone in the view of his or her camera. OmniQuest Youth Empowerment Initiative, Inc. will be the sole owner of the captured images and/or video possessing the sole right to be able to use the images and/or videos for marketing purposes without compensation.